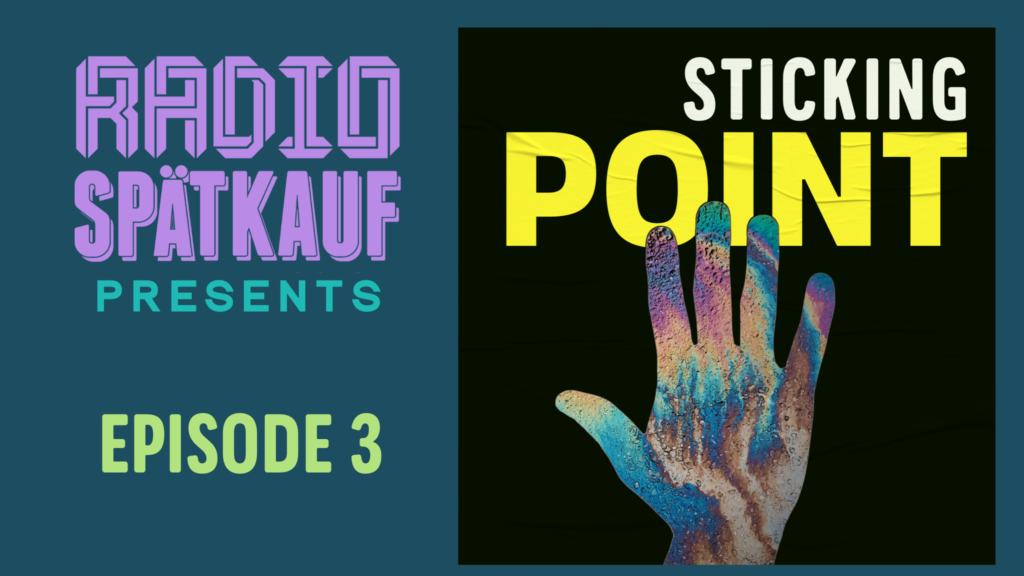 "I don't think fear is the right word. I am afraid of the future," Tim Wechselmann-Cassim of Letzte Generation told us about what he feels when drivers try to run their cars into activists during a street-takeover action. "The worst thing that can happen is that they are going to run me over […] I wouldn't be there if I wasn't already committed to that."
Who defines what "radical" is? Who gets labeled "radical" and what implications does this have? In this episode of Sticking Point, Anne-Marie and Izzy dive into this question and share some of their personal viewpoints on the kinds of direct actions taken by Letzte Generation and why they think the media making comparisons to terrorist groups is pretty freakin dangerous.
Journalist Paul Hockenos picks up with what happened in the climate movement after FFF and XR stopped attracting the numbers onto the streets that they had in 2018 and 2019. Wechselmann-Cassim takes us further into the motivations of Letzte Generation activists and Tadzio Müller of Ende Gelände argues that there are also specific reasons why the climate movement has not turned violent. Jérémie Gagné from the More in Common thinktank and Regine Richter of Urgewald join us again to help contextualize the impact of these activist groups on German society.
About Sticking Point:
Izzy Choksey and Anne-Marie Harrison take a journey through Germany's climate movement in this Radio Spaetkauf series. Sticking Point meets the people inside Germany's climate movement: from the tactics of the anti-nuclear campaigns, to activists clambering onto coal excavators, striking students and people gluing their hands to roads. We find out what motivates activists and why they are willing to use increasingly radical means to force change.
Credits:
Producing: Izzy Choksey and Anne-Marie Harrison
Script: Izzy Choksey and Anne-Marie Harrison
Editing: Sebastian Filip
Technical Support: Daniel Stern
Art Work: Daniel Stern
Additional Support: Joel Dullroy
Music: Tom Evans
Listen:
Listen and follow on Spotify
Listen and follow on Apple Podcasts
Support:
Help us keep making podcasts and mini-series! Donate now.
Shownotes:
https://www.theguardian.com/world/2020/dec/29/could-covid-lockdown-have-helped-save-the-planet
https://www.theguardian.com/environment/2023/apr/21/climate-diplomacy-is-hopeless-says-author-of-how-to-blow-up-a-pipeline-andreas-malm?CMP=Share_AndroidApp_Other
https://www.theguardian.com/world/2023/apr/27/german-police-call-for-tougher-response-to-growing-climate-protests-letzte-generation
https://de.statista.com/statistik/daten/studie/258757/umfrage/umfrage-zum-tempolimit-auf-autobahnen/
https://www.zdf.de/nachrichten/politik/dobrindt-klima-raf-100.html
https://www.ndr.de/nachrichten/niedersachsen/Verfassungsschutz-haelt-Bezeichnung-Klima-RAF-fuer-falsch,pejril102.html
https://www.zeit.de/gesellschaft/zeitgeschehen/2023-04/amtsgericht-berlin-tiergarten-haftstrafe-klimaaktivistin-letzte-generation
https://www.zeit.de/gesellschaft/zeitgeschehen/2023-04/amtsgericht-berlin-tiergarten-haftstrafe-klimaaktivistin-letzte-generation
https://www.merkur.de/deutschland/haft-monatelang-rekordstrafe-klima-kleber-aktivisten-letzte-generation-gefaengnis-strafe-92217695.htmlv
https://www.tagesschau.de/inland/regional/berlin/rbb-demonstranten-blockieren-an-27-stellen-im-berliner-stadtgebiet-strassen-102.html
https://www.mdr.de/brisant/radfahrerin-berlin-tot-102.html
https://www.hdg.de/lemo/kapitel/geteiltes-deutschland-krisenmanagement/linksterrorismus-rote-armee-fraktion.html
https://www.theguardian.com/world/2023/may/24/german-police-stage-nationwide-raids-against-climate-activists
https://www.tagesspiegel.de/berlin/weil-scholz-sie-vollig-bekloppt-nannte-letzte-generation-beschmiert-spd-parteizentrale-in-berlin-9865331.html
https://www.zdf.de/nachrichten/politik/letzte-generation-umfrage-kriminelle-vereinigung-100.html
https://www.tagesschau.de/inland/klimaprotest-letztegeneration-straftaten-100.html