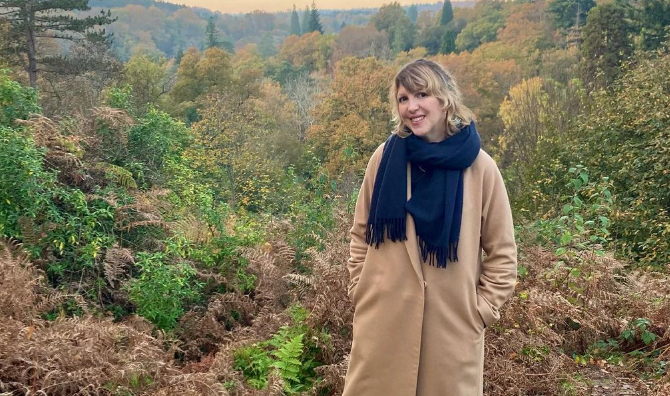 It is with immense sadness that we announce the death of Maisie Hitchcock. Maisie died peacefully on August 9 2023 in the company of her family members. She died as she wished, in a hospice with views of her beloved English countryside.
Maisie died from the effects of ovarian cancer. She was diagnosed in 2020. Her only symptoms were slight stomach bloating. Maisie wished she and other women knew that this is a sign of ovarian cancer, for which there is almost no screening and little research.
In the three years after her diagnosis, Maisie was able to travel to many of the places that made her happiest – the mountains of Switzerland, the lakes of Italy, and of course the parks, canals and lakes of Berlin. Her favourite place in Berlin was Schlachtensee, where she would often walk, swim and paddleboard.
Maisie's voice has brought cheer and comfort to the ears of Radio Spaetkauf listeners since 2011. Hers was the first voice ever heard on the podcast, announcing it into existence, and she was a regular co-host right up until illness forced her to return to England for treatment. We all miss her insights, interjections, laughs and sighs that characterised so many episodes.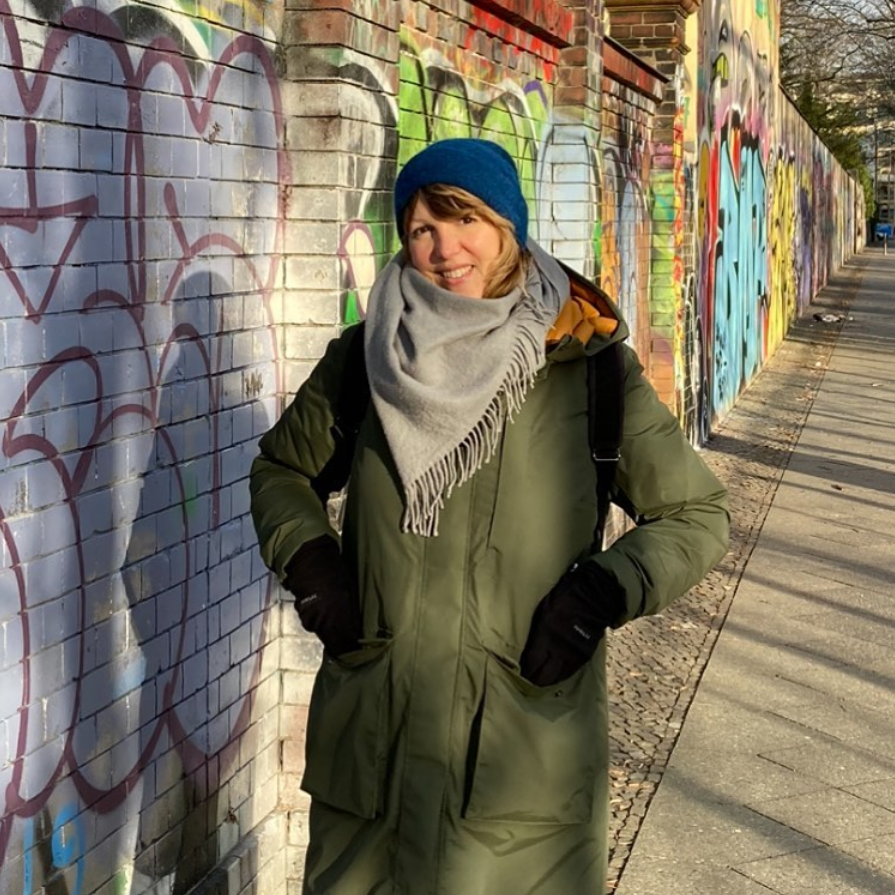 Radio Spaetkauf was only one of her projects. She was also a writer and radio producer, and worked for a time on the BBC's flagship Today programme. She studied for a masters in art history, and gave classes on architecture and design.
Maisie moved to Berlin in the early 2000s, drawn by an appreciation for the overlooked art and architecture of the GDR. She photographed many East German buildings and murals, and published a blog to share them with the world, at a time when they were being ignored or demolished. She found wonder and beauty everywhere, even in the style of an era that others wished to erase. Her appreciation for DDR design was captured in a documentary filmed by RBB, which you can see here (use a VPN if watching from inside Germany): https://youtu.be/WZbWkVdkiSs
Maisie's main job and passion was tour guiding. She worked for many years in Berlin and across Germany, Switzerland and Austria. Her favourite years guiding were spent with Rick Steves' Europe. She described her career in an interview archived here.
Many listeners remember Maisie's passion for music, spanning genres such as Ostrock, Deutsch Rap and new wave. For a few years she kept a blog detailing underrated East European music. Her writing was sometimes hilarious, as this post about Karel Gott 'the Slavic Sinatra' demonstrates.
Early episodes were music-heavy, and Maisie always picked the songs. Go back through our archive to hear some of those first shows, which feature her musical selections. Episodes from Radio Spaetkauf's first years from 2011 to 2012 are archived here. Later years from 2013 to today are here.
Maisie spoke often about wanting more people to know about ovarian cancer, and asked people to donate to charities funding research and awareness, including Ovarian Cancer Research (UK), Eierstockktrebs Stiftung (Germany), and Ovarian Cancer Research Alliance (US).
We are all deeply saddened by Maisie's death. Her final weeks were spent sharing stories and memories with friends and family in which she expressed her deep gratitude at being able to enjoy more than four decades of a wonderful life, loved by her family, cherished by her friends, full of travel and discovery of beautiful places. We miss her profoundly, and are consoled that we have so many hours of audio in which we can always hear her beautiful voice.
We are preparing a special episode featuring our favourite moments and memories of Maisie. Please send us yours: hallo@radiospaetkauf.com