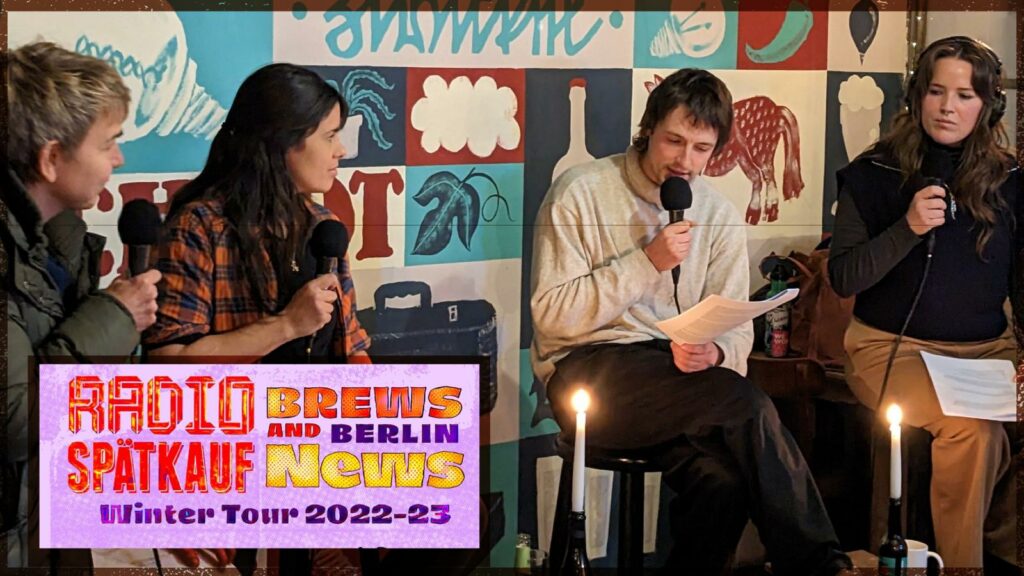 In our second installment of the Brews and News winter tour we recorded at the Vagabund Brewery in Wedding from Kesselhaus. 1,500 fish died after the giant fish tank in the Radisson Blu exploded out into the street next to Alexanderplatz. We talk through an interesting transport proposal from Green Senator Bettina Jarasch to let bicycles park in car spaces, and another by the Berlin government to ease up immigration laws that could have huge consequences for listeners wanting to become Germans. And we share our best Christmas tips and tricks for those spending the holidays in Berlin. Happy first day of Hanukkah one and all.
We check in with pal of the show Ryan Plocher, active with the GEW union Berlin, who came on to let us know about the most recent teacher's strike in Berlin.
Twitter
Instagram
And Yvonne von Langsdorff came on to tell us about how she (and her neighbours) hatched a plan to snatch back the sale of her house from an investor – by buying it but not owning it themselves.
Instagram
Website
Community Room
This episode was sponsored by Athletic Greens. Visit http://www.athleticgreens.com/spaetkauf and get a free year's supply of Vitamin D3+K2 for immune support, 5 convenient Travel Packs and a starter kit with your first AG1 order!
This episode was recorded live at Vagabund Brauerei's Kesselhaus location in Wedding, so you might hear a little extra background noise. Thanks to our audience member @antesepic for the photo!
Stop by one of our Brews and Berlin News Winter Tour locations. Our next show will be on Dec 18 at Vagabund Brauerei in Wedding. Register for tickets here.
Hosts: Izzy Choksey, Jöran Mandik, Anne-Marie Harrison
Research & Writing: Anne-Marie Harrison, Sebastian Filip, Jöran Mandik, Izzy Choksey
Editing: Sebastian Filip

If you like what we do and want us to keep making the show, please support us by subscribing or donating.