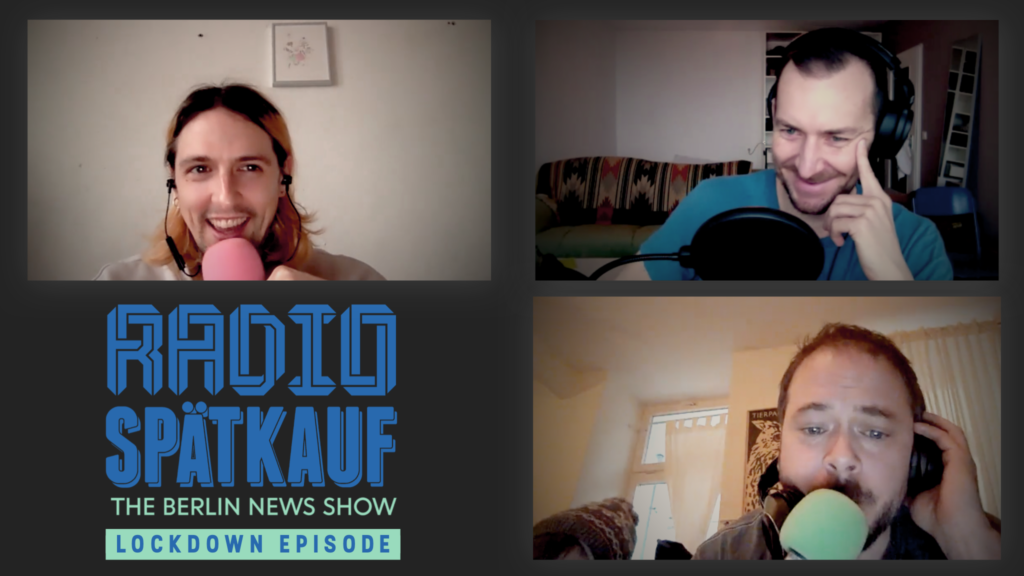 Jöran ushered in the new year with jelly donuts, Joel an ice cold swim and Dan watched the ZDF livestream. All were pleased with their experiences. Hospital on the water Urban Krankenhaus gets positive reviews from the team, though recent expansions ignore the buildings aesthetic and surroundings.
How was Berlin's NYE with fireworks sales banned? : 862 fire crew call-outs, 43 in 'verbotszonen', and 211 fires; 10 victims in ER, 2 hands partially amputated, one Brandenburg man killed by self-made rocket; one Neukölln supermarket destroyed by stored fireworks. Those numbers are about half of last year's.
How many fewer fireworks were fired? The Frankfurter Allee air quality station measured one third as much particle pollution. The rubbish collection company BSR said 130 meters of fireworks trash was collected, also about one third the volume of last year. If it was like this every year, we'd have nothing to complain about.
Christmas is long gone, but the trees are yet to be picked up. 350.000 of them per year according to the BSR. This year, they will begin their tree-pick-up rounds on January 7. They ask to remove all decorations from the tree when putting them out on the street. Even if you have a little baby tree. Don't put them in the bio-bin – they can't be used for biogas-production. The collected trees will be shredded and burnt for the production of heating energy.
The lockdown is set to continue. With about 30% of intensive hospital beds occupied by COVID-19 patients, and a boost in testing numbers expected after the holidays. Kitkat Club continues to attract huge crowds with its €25 test. And the 'queerdenkers' keep protesting, dancing in a conga line on Alexanderplatz singing about how we need a little virus. Maisie tweeted: "It's funny how Holocaust denial is illegal here but Corona denial isn't. Why aren't they banned outright? Because they don't use hate speech?"
Public transport tickets have gone up to €3 for a single journey; in Paris it's €1.90. New S-Bahn trains are on the tracks, with flat windscreen windows, giving them a futuristic vibe. To see them take the S47 between Spindlersfeld and Hermannstraße. Initially there are only ten of the new vehicles on this route. More will be added in 2022. The new trains have air conditioning, a new door signal, faster acceleration and deceleration. But no USB chargers, as was once promised.
You're going to be seeing a lot more shared electric mopeds on the streets: The company Emmy plans to put 800 more of its red scooters. Joel questions why he only needs a class B European driver's license to use one, and how much is the fish?
Much of Berlin has already seen and mocked the "Psychometric WG" . Do they deserve less ridicule or should they be condemned for an embrace of villainous cyborgishness? At €800-€1000, their rent is definitely over the Mietendeckel limits (which also apply within WGs). If you want to report them or any other suspected overcharging landlord to the city government for investigation, here's the link. Click link under "Online-Abwicklung": https://service.berlin.de/dienstleistung/330040/standort/123904/
2021 is an election year, which Radio Spaetkauf is excited to report on. But who should we run for office this year? Give Juri another shot despite only garnering 66 votes last time, or run a new candidate? Perhaps Carmen, our recent guest host? Should we really campaign or would that only degrade the democratic process?
Maisie says thanks for the messages, they have been wonderful.
If you, your business, or organization is interested in starting your own podcast get in touch with the Radio Spaetkauf team. We'll make sure you have a unique concept that will keep your audience engaged and help you expand your following. hallo@radiospaetkauf.com
Thanks to all our donors! Support Radio Spaetkauf with a one time or ongoing donation at radiospaetkauf.com/donate. Grab a gift for the Radio Spaetkauf fan in your life at our new merch page, totes, mugs and T-shirts printed in Berlin.