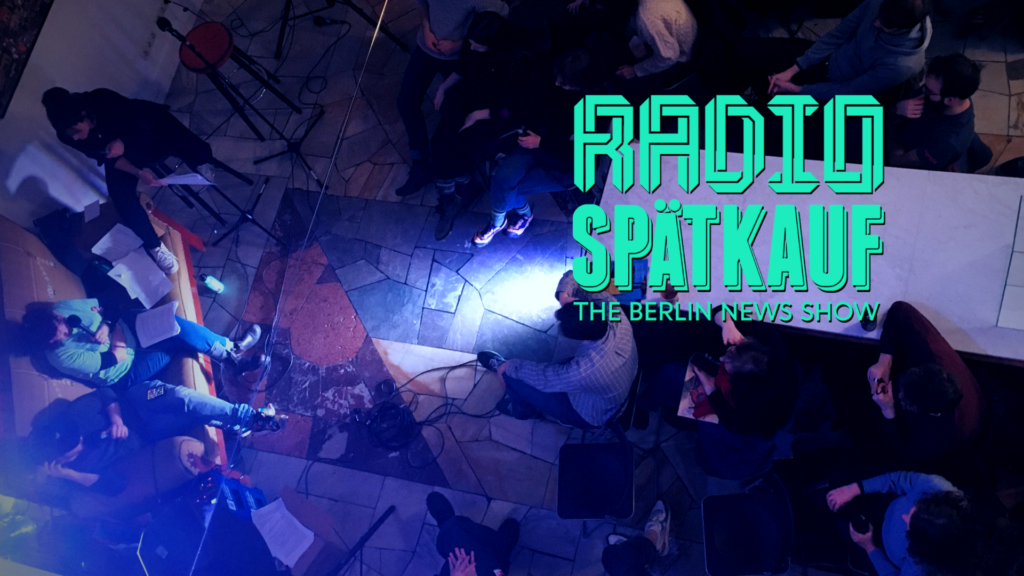 Recorded Live at the Babylon Berlin Cinema in Mitte on Sunday, January 22, 2023.
A brand new year brings Berlin fresh cringe from mayor Franziska Giffey and a reignition of the annual fireworks debate. We look at how racism and feminism might play a role in that conversation. Berlin vs. Hamburg? 25 percent of Germans found Hamburg the "most likable" German city, but which city-state do Radio Spaetkauf hosts prefer? The answer may shock you! (It probably won't).
This episode was sponsored by Athletic Greens. Visit http://www.athleticgreens.com/spaetkauf and get a free year's supply of Vitamin D3+K2 for immune support, 5 convenient Travel Packs and a starter kit with your first AG1 order!
Fresh scandals and new posters leading up to the election redo, who stands to gain and do any deserve us? We chat with Nathaniel Flakin, author of "Revolutionary Berlin" about the election and some of the Berlin actors in the recent coup attempt. His book is published by Pluto Books and his tours can be found at https://revolutionaryberlin.wordpress.com/
Our second guest is Yevhenii Surniaiev, a board member of IWEK e.V. (fb page link), one of the associations that founded the Alliance of Ukrainian Organizations. He gives us some perspective on the new Ukrainian experience of Berlin and Ukraine as well as his suggestions on how to help those displaced and suffering because of the Russian invasion.
Links here:
https://www.medhelpukraine2022.org/
https://plastde.org/spendenaufruf/ 
https://ukr-dim.de/help/
Berlin will, at long last, send to Nigeria 10 artifacts know as "Benin Bronzes". Hopefully the return of these stolen artworks signals a better reckoning with Germany's colonial past.
The online portal queer.de has been sued for "disparaging the memory of the deceased" because of an article they wrote describing the now-deceased Joseph Ratzinger, AKA Pope Benedict the 16th, as being queerphobic. However, the head of the journalist union says there is no violation of the press codex and no obvious insult against the former pope.
In transportation news, it was recently made public that the BVG fired their security company Pütz in November after an assault on a passenger was "the straw that broke the camel's back," according to BVG sources.
It's hard to believe, but there's actually some good economic news to kick off this year. Berlin's economic output rose by about 2.5 percent last year, above the average for the rest of the country.
Berlin Fashion Week kicked off with Mayor Giffey's embarrassing hype line of "Hey, where are all the Berliners?!" and was later trolled by activists "The Yes Men" who infiltrated the Adidas RealityWear show with models in fake blood "literally wearing the toil of workers on [their] sleeves."
---
Thank you to everyone who listens. We appreciate the audience and the community. Your financial support will help keep this project viable. Become a monthly supporter or make a one time donation at https://www.radiospaetkauf.com/donate/ thank you.
Join Izzy February 4th on a walking tour of Berlin covering social movements.
Political Walking Tour – Social Movements in Berlin – The Left Berlin
Dan has a new weekly stand up show called "Slingshot" at Two Fellas in Pankow.
Info and reservations at sterndaniel.com
Matilde is a frequent performer at Comedy Cafe Berlin, catch her there!
This episode was produced by Anne-Marie Harrison and Daniel Stern.
Editing and additional research by Sebastian Filip.
Writing by Anne-Marie, Matilde Keizer and Izzy Choksey.
Hosts: Matilde Keizer, Izzy Choksey and Daniel Stern.
Additional contributions by Joran Mandik and as always the support of Joel Dullroy.
Assistance from https://www.podfestberlin.com/ and technical help from https://mobilekino.berlin/
Recorded live at Babylon Cinema in Mitte – a wonderful place to see thoughtfully curated film: https://babylonberlin.eu/ thank you to their wonderful staff!