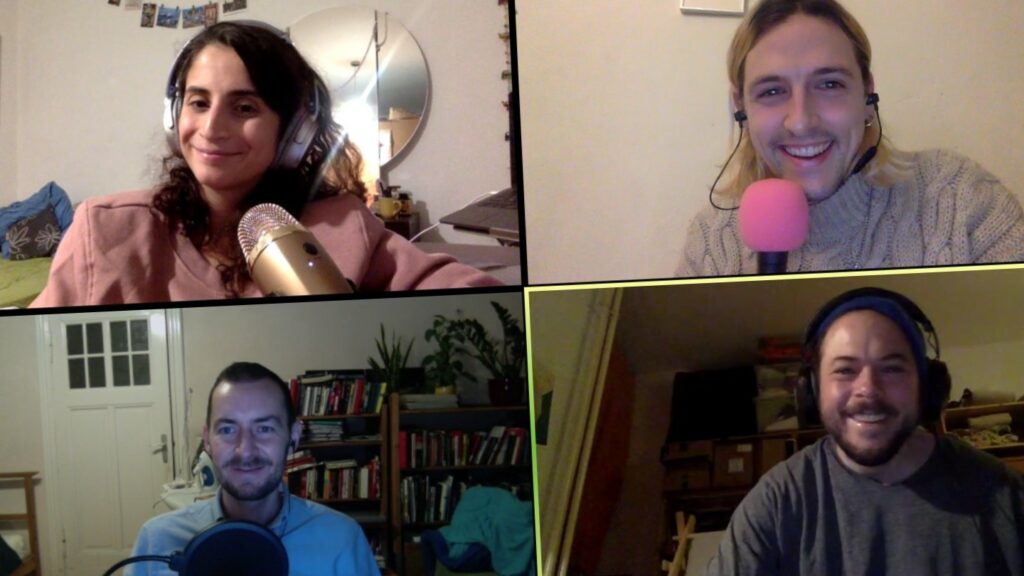 We're joined by guest co-host Carmen Chraim! Listen to her podcast People of Carmen.
Joel shares his experience of having coronavirus: it's hard to get tested, and contact tracing is no forensic investigation. Luckily more private testing clinics have opened, including at BER and Kitkat Club.
With Christmas markets cancelled, the whole city has become a distributed glühwein markt. Joel and Jöran went on a tour of Neukölln's weihnachts windows. Can we expand the variety of hot drinks on offer please?
But glühwein is unlikey to save the hospitality sector. A survey by Bars of Berlin found 75% of their members expect to go out of business by 2021. Restaurants are operating on about 40% of their usual trade.
The U5 extension is finished, connecting Hauptbahnhof to Alexanderplatz. It was only 20% over budget and 3 years late. But Friedrichstraße U6 station has closed – Berlin has a ghost station once again. Do we need an U-Bahn extension to BER?
And at BER… Schönefeld airport is closing. The building now called Terminal 5 will shut its doors March for at least a year due to low traffic. Suddenly Berlin has three abandoned airports.
The bill for the police operation to clear the Liebig 34 squat is in: it cost almost €1 million: that's more than the owner paid to buy the building in the first place. The residents wanted to stay and pay rent, as they had been. The landlord wanted them out. The city sided with the owner.
Thanks for the lovely messages for Maisie – she really appreciates them.
Thanks to all our donors! Support us here: http://www.radiospaetkauf.com/donate
Does your business need a podcast? Hire us to help you produce it! Contact us: hello@radiospaetkauf.com